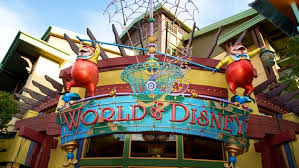 World of Disney is a store at Downtown Disney Shopping Center. It is one of the biggest stores in the center and is avalible at other Disney theme parks
Merchandise
Edit
Products sold at World of Disney include backpacks, books, boxers, children's apparel, clocks, collectibles, costumes, dolls, figurines, gifts, hats, jewelry, luggage, photo albums, plush toys, sleepwear, slippers, socks, souvenirs, stationery, sunglasses, sweatshirts, T-shirts, ties, videos, watches and other items branded with Disney characters and theme park icons.
Ad blocker interference detected!
Wikia is a free-to-use site that makes money from advertising. We have a modified experience for viewers using ad blockers

Wikia is not accessible if you've made further modifications. Remove the custom ad blocker rule(s) and the page will load as expected.